The Thursday Short this week takes place in a fictional prison. Please feel free to leave a comment at the end. I love to hear from you.
Escape
by Fran Clark
Acres of wild, lush forest surround the grey walls of a large stone building - built in a century when a workhouse for orphaned children would not have been out of place. Back then, a dusty track led to the workhouse from a nearby town. Now a motorway cuts through the forest and the workhouse is a male prison of the same name.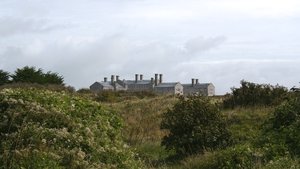 Dunstone Hall looms high above the landscape and that same dusty track is a slip road off Junction 11. Three lanes of fast, wide, black road; blinking white dashes being eaten up. Now the junction, and now the slip road. Narrow, quiet, lying in the heart of overgrown evergreens that dominate and captivate all at once. The rumble from the motorway subsides and almost suddenly there is birdsong. But always, and most certainly within 800 metres of the prison, there is silence.
Prison Officer, Mike Langton, observed this silence as he had done for the last twenty years, eight hours a day, six days a week, 50 weeks of the year. Having lost any notion of what drew him there after all this time, he never lost the desire for that silence outside the prison to accompany him whilst within its walls.
Three times a day the main hall of the prison over-spilled with men in uniform. Men in grey shirts and trousers. Some in black suits, a tie and black cap. Fewer of those, but whose presence was overbearing. There was a deafening sound of feet shuffling along an endless line that led the men in grey to the main hall for a meal served on plastic plates and eaten with plastic forks. Echoing in the hall, the exaggerated level of voices, chairs screeching along the floor and the occasional instruction barked from one or more of the men wearing black suits and caps.
Above the din, Langton picked out the sound of one inmate. The tea monitor, sloshing the tepid fluid repeatedly from a large pail into the Melamine mugs of his fellow inmates. Langton, his cap pulled far down on to his face, studied the man pouring the tea. This was the man the other inmates called Headcase. Headcase spoke to no one. He looked at no one and appeared not to be listening either. Over time, Langton realised that Headcase was the participant of a secret conversation. His lips would move, but no matter how near or far away from him Langton stood, not one syllable was emitted. He would pause, as if awaiting a response to these silent words and once received, his lips would move again. This private conversation was the one thing the Prison Officer wished he could hear.
Headcase had been in this prison for longer than anyone could remember. Inmates came and left and every now and again a familiar conversation would arise amongst them.
"
Who, Headcase? I don't know."
"
Well he was here before me and I've been here 6 years."
"
Killed someone. Never goes up for parole."
Once in a while a man is wrongly convicted for a crime. It was Langton's belief that every prisoner he had seen walk through the doors of Dunstone Hall, must be guilty of something. There were no innocent men here. Whether guilty of the crime in question or not - justice had been served. His only exception was Headcase. He thought Headcase was neither guilty of the crime he'd been convicted of, nor was he capable of being guilty of anything else. Langton believed that one day he would come to know the truth about this man but so far had found no way of penetrating the prisoner's world within these prison walls.
Headcase, or Stephen Drake, had been convicted of the brutal murder of his father when he was just 16 years old. He had transferred to the adult prison at 18. Whereas at the Young Offenders prison he used monosyllabic means of communication, at Dunstone Hall he refused to speak at all. In court he answered yes or no in a hushed voice and could offer no defence for the crime except to say, "I couldn't stop it."
Evidence had placed him at the scene, his home. The murder weapon was found covered in, not only his father's blood, but his fingerprints too. The weapon had been the cricket bat his father gave to him for his 14th birthday.
From age four, Stephen Drake had been raised by his father - his mother having abandoned them both following the last in a series of cruel beatings from her husband. The next would have killed her. Having then been left to satisfy his rage on his son, the court heard that the boy sought revenge on the senior Stephen Drake and was, therefore, found guilty of murder.
The boy was now a man approaching fifty. Langton decided it was his duty to give this milestone significance. From his home he brought in a radio cassette and took it to Stephen Drake's cell.
"
Mr Drake, I thought this might be useful to you. It's not new but it still works. I couldn't find any batteries so you'll have to plug it in. Here's the lead. I assume you know how it works. Well, I suppose you can work it out. Oh, and Happy Birthday."
Not expecting an answer, Langton closed the door behind him. It was only minutes to lights out and two more hours until his shift was over. Before Langton came on duty that morning, the Warden had summoned Stephen Drake to his office and had informed him that his release date was imminent, exactly 6 months to the day in fact. Drake had not reacted in the slightest and was shown back to his cell where he'd remained seated on his bed all day, ignoring his duty as tea monitor for the first time in 32 years. Langton, unaware of his release date, had assumed that the age of 50 must be of significance to Drake after all. He had awarded himself a day off and no amount of coaxing could persuade him to make or serve the tea.
When Langton arrived at Dunstone Hall the next day he was informed that there had been a suicide over night. Stephen Drake had hung himself with the cord from his radio cassette. Langton drove away from Dunstone Hall that night for the last time.
You might also like:
The Thursday Short #1